Local SEO is the key to generating consistent leads in your service area. Without a Local SEO strategy in place, you're either a) not showing up organically at all, or b) showing up organically, but generating traffic from outside your service area. When contractors come to us for digital marketing help, they make it clear they don't want their phone ringing all day with tire-kickers and customers outside their service area. Focusing your website and digital assets on your specific service area is the key to driving leads, but more importantly, it's the key to driving the right leads. 
Here are 5 ways you improve your Local SEO and start generating the right leads for your contractor business:
1. Optimize Your Google Business Profile
You've likely heard this plenty by now, but it remains the most essential ingredient for ranking in the Google Local Pack. Make sure you claim your business on Google if you haven't already, then make sure your profile is completely filled out. Add your best project pictures, accurately list your service area/offerings, post regularly, and continuously seek reviews from your customers.
2. Create Location-Based Landing Pages
One of the main challenges contractors face with Local SEO is showing up organically in all the areas they want to serve. It's easy, with an optimized Google Business Profile, to show up in the city your main office is located, but you'll need advanced strategies if you want to expand your reach to your other service areas. A popular option is to run Google Ads in these areas, but this can get expensive. Instead, you should build location-based landing pages. 
Here's an example from one of our clients. Glenbrook Remodeling serves the North Shore of Chicago; a large, competitive area. They wanted to improve their rankings in the various suburbs they serve. First, we created an Areas We Serve page, then we created location pages for each of their target cities. Here's an example of one of the pages for Northbrook. This page is ranking for these target keywords: Northbrook Home Remodeling, Northbrook Remodeling Contractor.
3. Optimize Your On-Page Text
On-Page Signals is one of the most important ranking factors for both the Local Pack and below the Local Pack. According to Bright Local, an industry leader in Local SEO, On-Page Signals is the second most important ranking factor for the Local Map Pack, and the most important signal for Local Organic (below the Local Pack):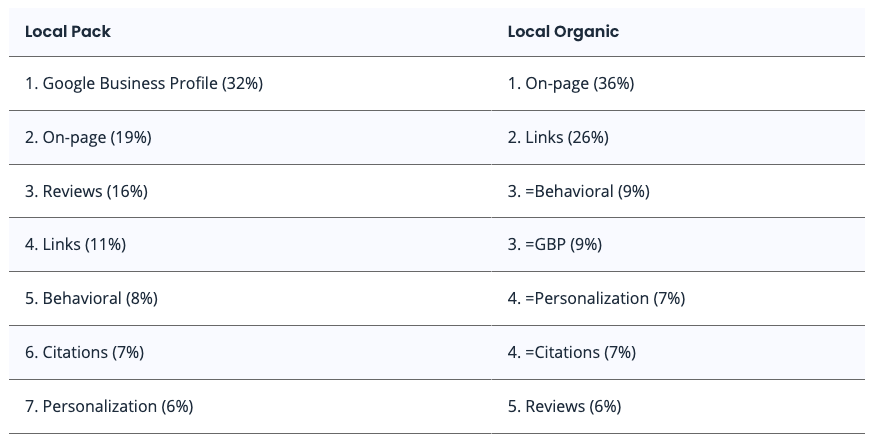 When customers enter a search query, Google sends off their AI army of web crawlers to find the best webpage for that query. They want to find the page that will provide the best experience for that customer. As shown above, one of the key signals they will look for is on-page text. If a customer searches for "Home Remodeling Kansas City", Google is going to look for those words, or close variations of those words, to select which pages to show. To be clear, there are 200+ ranking factors that Google takes into account when choosing these pages, but on-page text is a crucial factor that is easy to optimize. 
4. Optimize Your Home Remodeling Marketplace Listings
Home remodeling directories take up valuable SEO real estate. Directories such as Houzz, Angie's List, Home Advisor, Thumbtack, BBB, Yelp, and Home Guide are growing bigger and bigger each year, making it inevitable that one or more of these sites will be at the top of the search engine results for all contractor related searches. Below are the top 6 organic search results for the query "contractors near me" searching in the Portland, OR market.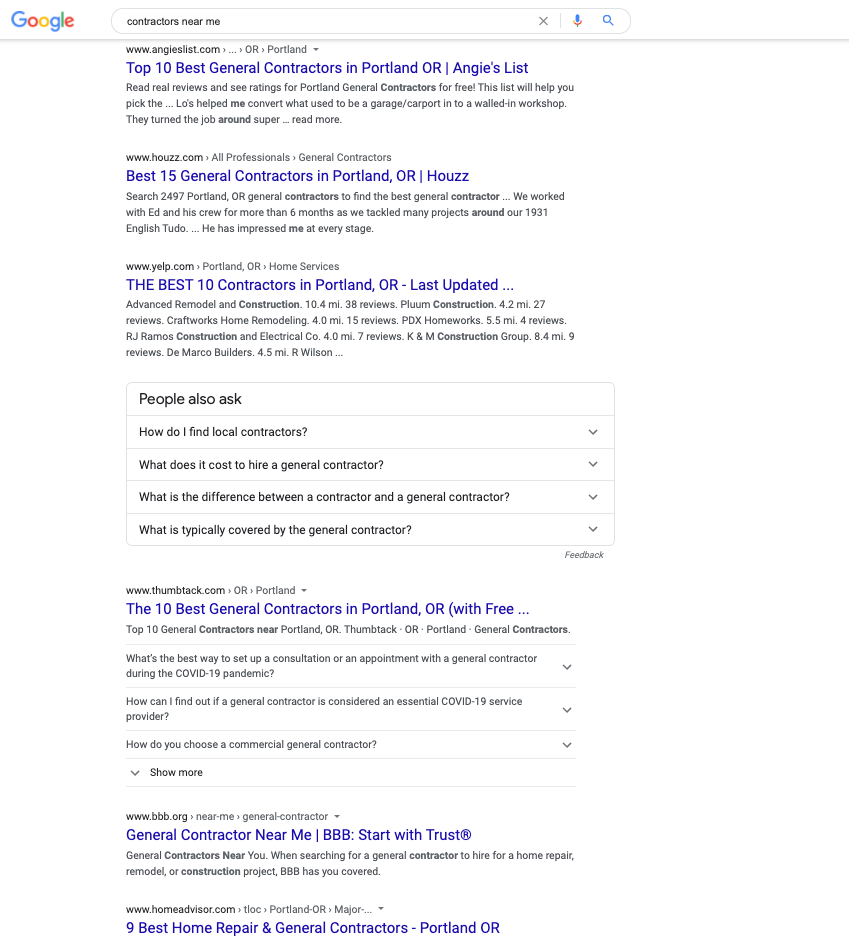 While we don't recommend investing money into the paid versions of these sites, (invest in your business, not theirs!) it's still important to have completely filled out profiles. Upload your recently completed project pictures, list all your services, solicit reviews from happy customers, and make sure your NAP (name, address, phone) is accurately listed on all these sites. Google looks for consistency in your NAP across all these different online platforms; they want to make sure you're a legitimate business and they can confidently direct customers to you.
Link building is one of the most challenging yet rewarding digital marketing activities you can do for your contractor business. Links are a huge ranking factor for Local Pack and organic rankings. Building relevant local backlinks is tough, but here are a few of the most common "white-hat" tactics used by digital marketers:
Sponsor an event:

There are plenty of events that need local sponsors every year. From marathons to concerts, to brew fests and festivals, there are bound to be a few well-known annual or monthly events in your community. If they have a website, ask them to include a link to your site and list you as a sponsor. Most event managers will do this for sponsors even if they don't ask. 

List your preferred partners: Create a page on your website that lists all your preferred partners, such as this example from Kasten Builders. Then, after creating the page, reach out to each one and ask them to create a similar page and link back to you. This ask is much easier if you create the page and link to them first. Getting just 2-5 links from local businesses will give a boost to your Domain Authority and put you a step ahead of the competition. 
Build relationships with local journalists/writers:

Local journalists are always looking for stories to cover. As a subject matter expert, reach out to them and make yourself available as a source for future stories related to the remodeling industry. Even if you're not writing your own blog content for them to share, building a relationship and establishing credibility as a source can still earn you backlinks from their stories. 
Local SEO is crucial for contractors looking to build a consistent flow of leads each month. Implementing these 5 tips will put you ahead of your competition and have you climbing up the SERPs in no time. To read more about why Local SEO is important, read our blog post titled "What is Local SEO and why is it important?"