*Updated May 26, 2023. Originally published September 28, 2020
Paid search (i.e. Google and Bings Ads) is a popular inbound marketing strategy used by contractors throughout the United States. It gives you an unprecedented opportunity to instantly reach customers searching for "remodeling contractors near me", "(your city) kitchen remodeling", or any other search term relevant to your business, and send them to a specific page, geared towards a specific action. Thanks Google and Microsoft!
Paid search is an amazing way to generate leads quickly, but you shouldn't aim to use it forever. It can get costly, and it's becoming more popular and more competitive everyday. Your long-term goal should be to have enough organic traffic that you don't need to spend money on Paid Search. Easier said than done, right?
So, to recap: paid search is good, but can also be costly; and SEO is great, but takes a while to achieve. If you're new to this game, you'll likely have to spend some money on paid search while you slowly build up your SEO and start pulling in organic traffic. The rest of this post will focus on how to get the most out of paid search while you build up your SEO.
Case Study
How we leveraged paid search for one Portland-area home remodeler
THE Remodel Group came to us looking to grow their organic traffic and lead quality. They had recently redone their website, so the data we had to work with was minimal when we took them on. When you're beginning to build your SEO and choose your keywords with no existing data, it can be a bit of a struggle. That's where paid search can help.
Intuitively, if you're starting with no data, you'll likely choose relevant keywords that get the most average monthly searches in your service area. Examples of this are:
"(your city) home builders"
"(your city) home remodeling"
"(your city) contractors"
There's nothing wrong with this, but you can't be certain that these are the best keywords for your business. For example, if someone is searching for "Portland home remodeling", does this automatically signify that they're looking to hire a professional? "Home remodeling" is vague — could someone be just looking for some DIY inspiration? Absolutely. The same goes for "Denver contractors" — how do you know they are looking for a remodeling contractor? Maybe they're just for someone to paint their home.
To play devil's advocate, more eyeballs means more chances to convert site visitors. Even if not everyone is looking for your services or is in your target audience when they search for those keywords, certainly some of those visitors will be. It's why these keywords are so competitive in the first place.
The point is, paid search is a great way to discover which keywords are right for your business.  Here's what we mean by great:
How well does the word convert (how many people fill out your contact form or call you)?
What is the quality of leads from these keywords?
How competitive is this keyword?
High traffic means nothing if it doesn't generate the right leads. Conversely, choosing low volume keywords can limit your chances of reaching the amount of people you desire. Paid search allows you to test different keywords and find the right keywords for your business.
For THE Remodel Group, our paid search strategy focused on finding the best keywords for their home additions and ADU services. Should we choose:
"Beaverton home additions"
"Lake Oswego home additions"
"Portland home addition"
"Portland home additions" (Yes, rankings and search results can vary greatly just by making your keywords plural.)
What about for ADUs?
"Portland ADU"
"Portland ADU contractor"
"Portland ADU builders"
There's endless variations of each of these keywords, so our goal was to find the best ones for THE Remodel Group.
Through our paid search efforts, we discovered that "Portland ADU builders" and "Portland home additions" were the most valuable keywords. In our paid search efforts, "Portland ADU builders" has converted 10.87% of the time between February 1 and August 31, doubling the industry standard.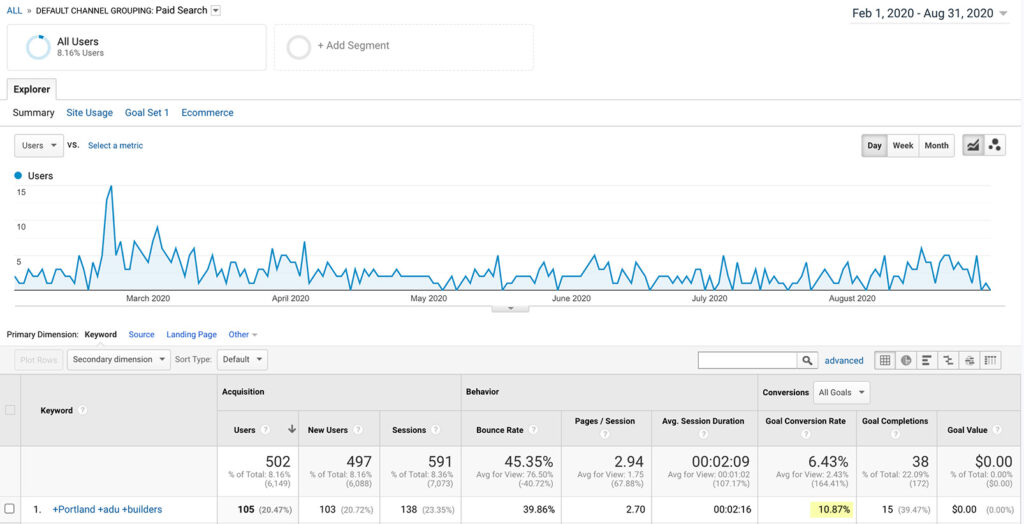 And, after adjusting some on-page text to focus more "Portland home additions", THE Remodel Group is now ranking on the first page of google for that term and bringing in consistent, converting traffic each month.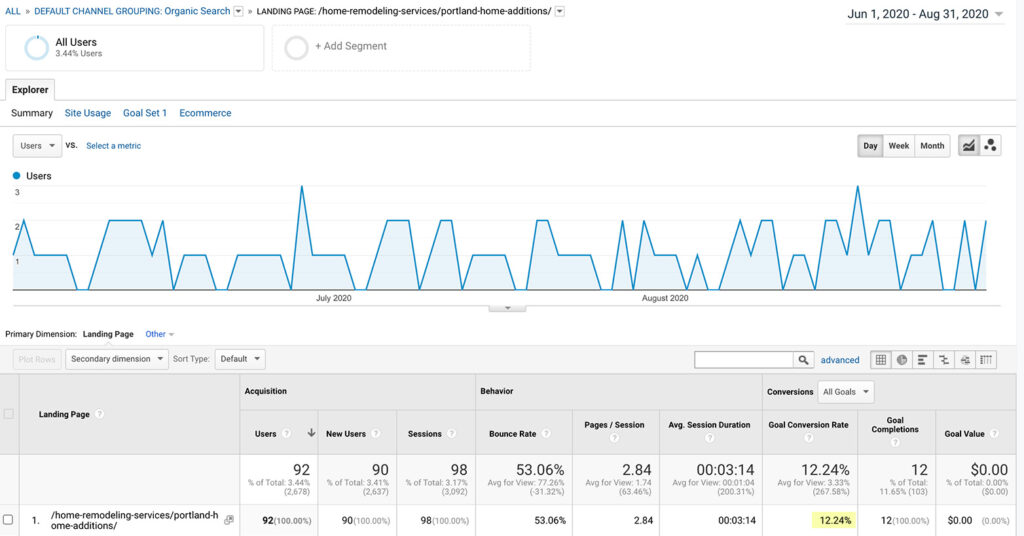 In these analytics screenshots above, 'Goal Completions' refers to contact form submissions. So in the case of THE Remodel Group, that's someone submitting a form to express interest in their services. Cha-ching!
To conclude, choosing the keywords for your SEO strategy can be a bit of crapshoot when you don't have any existing data. Paid search allows you to test different words in your target area, get real data, and find the keywords that bring you the best leads.
If you're interested in learning more about our paid search and SEO services, contact us today and talk to one of our marketing experts about the right approach for your business.